New Tourist Visa Policy By The Saudi Government
By Funadiq Team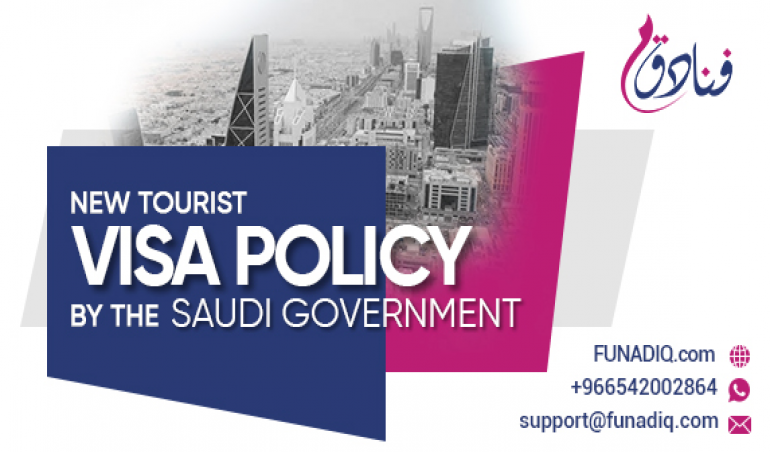 The Saudi government recently announced that they are opening their doors for tourism under the new Saudi tourist visa. As a result of this decision, dreams of millions of Muslims can come true who want to visit and experience the historic and rich culture of Saudi Arabia. The decision is made to achieve the targets of the reforms of "Saudi Vision 2030". Visitors of Saudi Arabia can roam freely in Saudi Arabia for the purpose of Business, Family, Tourism and to perform the Islamic pilgrimage of Umrah. It was among one of the major changes in visa policies made recently.
The visa will be valid for one year and you can stay for a maximum of 90 days in a year. You can perform Umrah on this visa to explore Makkah and Madinah or go on a trip to the historic Islamic sites, such as Mount Uhud, Jannat Ul Mala, or the cave of Hira, where the first revelation of the Quran was revealed. A tourist visa also allows you to visit all around the country without any limitations.
The Country has so much to explore from vast and luscious sand dunes to immaculate and incandescent canyons. There's also the beach of King Abdullah Economic City with amazing resorts, cinemas, amusement parks and lots of other family fun.
Eligible Countries for Tourist Visa

Citizens from the above 49 countries are eligible for on arrival visa or also can apply for an E-visa on https://www.visitsaudi.com/en/, the Saudi tourist visa will also be opened for other countries as well but it will not be an E-visa nor the on-arrival visa. Citizens of countries who are not in the above list can apply for a visa directly from your local Saudi Arabian consulate.

Once you apply for your E-visa you can now create your own package on Umrahcompanions.com where you can create a completely customized package for all your Makkah and Madinah hotels, transport or other Saudi experiences. We offer services such as VIP terminal arrival, Desert Safari, Handicap assistance, and other unique and wonderful experiences.
The current Saudi tourist visa price is SAR 440 (US $117). Under the Saudi tourist visa scheme, women are eligible to apply without a "mahram" in order to perform Umrah alone.
For Umrah related travels, the residents of those countries are now completely empowered by creating their own packages and managing their own reservations based on their desired travel dates and budget. Services like Funadiq.com offer the cheapest prices for Umrah packages and Makkah hotels and Madinah hotels. Umrah travelers and pilgrims can now be independent by booking their packages through secure and approved reservation portals connected to the central reservation system (MAQAM).
Countries that are not Eligible

If your country is not included in the above list for the Saudi tourist visa issued by the Saudi Government then don't worry, you can get a tourist visa from your local Saudi consulate. The visa will belong to category B. Here is what you should know to process your visa through the consulate.
The applicant should have an age of 16 years. If you are below 16 then you need a guardian who needs to be above 16.

Need a passport with a validity of at least 6 months while entering Saudi Arabia.

Visa Fee is non-refundable even in case of visa rejection.

You don't need a sponsor for the visa application.

Required additional information including hotel booking or proof of residency location.

Proof of employment.

Return ticket and bank statement.
The expected timeframe for completion of the application process is 1-2 business days.
Tourist Visa and Umrah Visa

The tourist visa has a lot to offer, It is also cheaper and easier to get as compared to the Umrah visa. Although there are very few Muslim countries that are eligible for the tourist visa, the countries in Category B will still have a lot of people who need to book their umrah package for Umrah Hotels, Umrah transport, Umrah Visa and Umrah flights. Keep yourself updated with the latest news of the Hajj and Umrah industry as a lot of massive changes that are embracing "Pilgrim Empowerment" have been implemented in the past few months.